The Port Authority has presented a plaque to the ship's captain, Davor Dubravica, as a memento of its first stop at the Port of Santander.
The President of the Port Authority, César Díaz, has noted that cruise traffic has performed «reasonably well» this year and has announced «more actions» to ensure that this type of tourism has an «increasing presence» in Cantabria.
The Bolette ship, consigned by Pérez & CIA and owned by the Fred Olsen shipping company, docked today at the Maritime Station in its first visit to the region with 1,103 passengers on board, mostly British, and 800 crew members.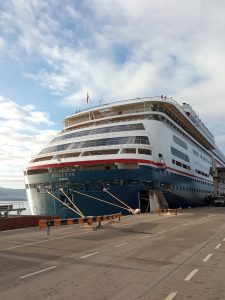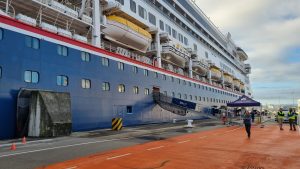 To celebrate its first stop in Santander, the President of the Port Authority, César Díaz, and the Tourism Councillor of the Santander City Council, Francisco José Arias, have presented the captain, Davor Dubravica, with a commemorative plaque.
The Bolette, a luxury cruise ship with a length of 237 meters launched in 2021 by the Norwegian shipping company, entered the port at 09.00, coming from Bilbao, and departed to Southampton at 18.00.
Once on land, cruise passengers could choose from many destinations, from visiting Santoña, Castro Urdiales, Comillas, or El Soplao Cave to enjoying a panoramic view of Santander or sampling local «tapas» in the city.
For the organization of stops and the promotion of cruise tourism, the Port Authority of Santander (APS), the Government of Cantabria, and the Santander City Council have created the «Santander Cruise Deluxe» brand with the aim, as explained Díaz, of «attracting new traffic to the region.»
With the visit of the Bolette ship, the Port of Santander concludes this year's cruise season, having received 17 stops and 23,817 passengers. An exercise that, according to the President of the APS, has been «reasonably good» as it has increased the total number of passengers by 3,600 compared to the previous year.
Díaz has stated that «different actions» are planned by Santander Cruise Deluxe to ensure that cruise tourism, which currently has 23 stops scheduled for 2024, continues to grow in Cantabria.