We are excited to announce the opening of the brand-new Regional Tourism Office located at  Santander's Maritime Station. This strategic addition to the city's infrastructure aims to enhance the visitor experience for cruise passengers and tourists alike.
Designed to be a hub of information and assistance, the Regional Tourism Office offers a comprehensive range of services to cater to the needs of visitors exploring Santander. Conveniently situated at the Maritime Station within the bustling port area, the office is poised to serve cruise passengers as well as other tourists, given its central location within the city.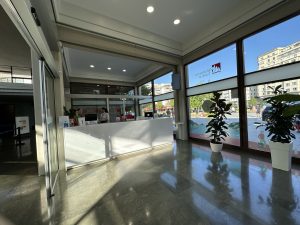 Key Features of the Regional Tourism Office:
Central Accessibility: The office's prime location allows tourists, including cruise passengers, to access essential information, maps, and guidance without the need to venture far from the heart of the city.
Expert Assistance: A team of knowledgeable staff will be available to provide insights, recommendations, and assistance, ensuring visitors make the most of their time in Santander and Cantabria.
Comprehensive Resources: The office will be equipped with a variety of tourism materials, including brochures, guides, and digital resources, allowing tourists to explore Santander y Cantabria with confidence.
The inauguration of this Regional Tourism Office aligns with Gobierno de Cantabria's commitment to enriching the travel experience for all visitors. It reflects the city's dedication to ensuring that those arriving by cruise ship or other means have easy access to information and services that will enhance their stay in Santander and also in Cantabria.
The Regional Tourism Office at the Maritime Station is open all year round (8:00h to 21:00h). For further inquiries, please contact +34 942 310708 or vía whatsapp 690600825.