On August 13th, the illustrious cruise ship, Spirit of Discovery, graced the port of Santander with an 8-hour visit. Nearly a thousand cruisers, the majority of whom were British travellers, disembarked onto Santander. Their next port of call: Bordeaux.
The activity at the port was a sight to behold, as a fleet of 18 buses stood ready to whisk the cruisers away on a variety of excursions. Options ranged from panoramic tours of Santander to explorations of both Santander and the picturesque villages of Santillana del Mar or Comillas. For those who did not wish guided tours, the newly established Regional Tourism Office, situated at the Maritime Station, offered essential information about Santander and Cantabria.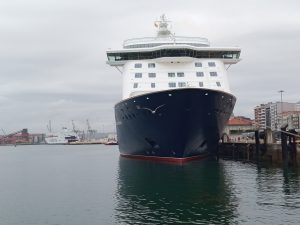 The Spirit of Discovery's brief sojourn provided a delightful boost to Santander, as cafes, shops, and local artisans welcomed the influx of curious visitors.